The Nerdcast is brought to you by Nerd Kung Fu. Nerd Kung Fu is the online greek t-shirt and gift shop, wrapped in pure fandom, nostalgia, and great customer service. You can find your nerdy t-shirts, posters, and gifts all in one place.
Lucky number thirteen brings the fans tons of joy, especially if you're a movie buff. The crew talks the dominance that was Hotel Transylvania 2 and the expectations of The Martian, all while leveraging their Fantasy Movie League plans. But there's more greatness ahead, with Pan, Spectre, and more up for talks. Besides movies, LEGO Dimensions, Ready Player One, DC movies, the difference between Edward Snowden and Edward Scissorshands and even a return to The Muppets. Not to mention Project-Nerd Publishing's newest announcements.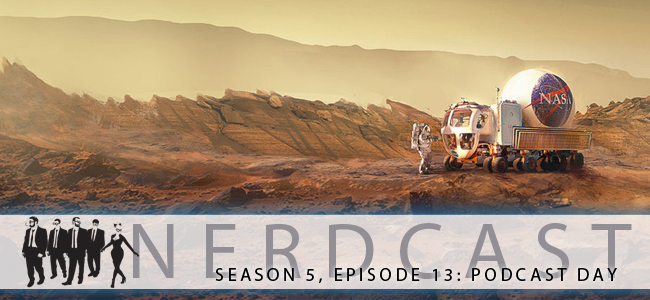 Season 5, Episode 13: Podcast Day
It's the fifth season of the Nerdcast from Project-Nerd. Join Adam, Erin, Iggy, and Tyler as they bring you an hour of geeky goodness each week. Don't worry, this podcast is safe for work (sort of) and safe for your soul.
For more on the Nerdcast and the other great podcasts on the Project-Nerd airwaves, visit the Project-Nerd Productions Page.
Share
|
Download