Episodes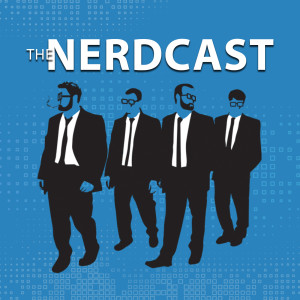 Thursday Jan 31, 2019
Thursday Jan 31, 2019
What's The Nerdcast without the crew disagreeing?
The Nerdcast crew has plenty to talk about on this week's episode, with entertainment and award news abundant at the end of the month. Can Black Panther's big win at the SAG Awards propel it to Best Picture glory at the Oscars? What movie trailers will be aired at the "Big Game" this weekend? Is anybody excited about another Ghostbusters film? And can Tyler and Adam be any more excited for Dune?
The answers are in Episode 182!

Episode 182: The Remake Hangover
Black Panther wins Ensemble at SAG Awards
Black Panther In Theaters for Free screenings for Black History Month
Aquaman Now Highest Grossing DC Movie in History (Global)
Birds of Prey Teaser is Just the Harley Quinn We've Already Seen
What Trailers for The Super B…ig Game
Ghostbusters 3? 4? Coming in 2020
The Umbrella Academy on Netflix
Velvet Buzzsaw on Netflix
Oscar Isaac Joining Dune Cast
Funko Pop Movie Coming
Kingdom Hearts III Drops
Resident Evil 2 Released
Chucky TV Series in Works for Syfy
Extremely Wicked, Shockingly Evil and Vile Premieres Trailer with Zac Efron as Ted Bundy
Criterion Announces April Titles: Includes Police Story/Police Story 2 Double-Pack
Project-Nerd's The Nerdcast is back and better than ever in 2019. Join Adam, Bob, Iggy, and Tyler as they bring you an hour of geeky goodness each week focusing on movies, comics, video games, cosplay, and just about anything else geek. Find out why Project-Nerd's flagship podcast, which airs every Friday, has more than 10 intentional listeners and thousands of accidental ones.