Bob, Iggy, and Tyler are joined by OCon Expo's Matt Fujan to talk about the upcoming OCon Expo (June 28-30) as well as detailing all the items from the past few weeks they haven't had a chance to talk about.
Correction Notice: Iggy denotes Image swept Best Series Category nominees at Eisner Awards and should have stated Best NewSeries Category.
The Nerdcast. Now on Wednesdays!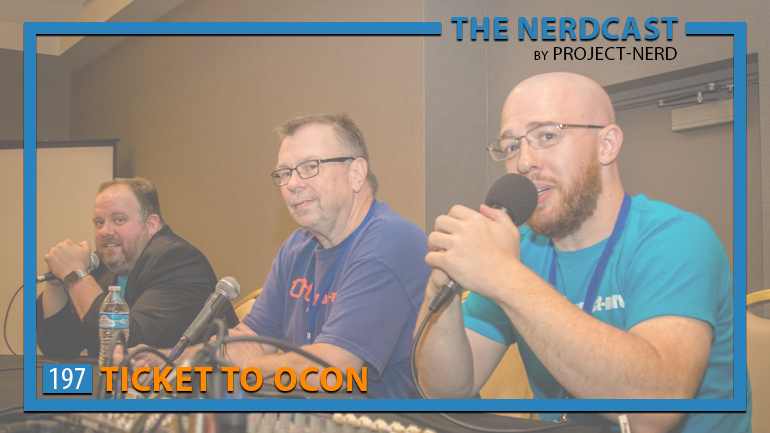 Episode 197: Ticket to OCon
Movies
Aladdin
Men in Black: International
Dead Don't Die
Secret Life of Pets 2
Rocketman
Dark Phoenix
John Wick 3
Godzilla
Avengers: EndgameClosing on Avatar
Streaming
Jessica Jones: Final Season
Good Omens (Amazon)
Preacher: Season 3(Hulu)
The Boys(Amazon)
E3 - News & Surprises
Cyberpunk 2077: Keanu Reeves Cameo
No Metroid Prime, Fable 4, or Rocksteady's "Secret" Batman Project
Gears of War"Same Ole" When "Tactics" Was Rumored
Final Fantasy VIIRemake Looks Fantastic
Eisners
Image SWEEPS 'Best New Series' Category
Image has 18 Total Nominations
Batmanup for Best Ongoing Series
Project-Nerd's The Nerdcast is back and better than ever in 2019. Join Adam, Bob, Iggy, and Tyler as they bring you an hour of geeky goodness each week focusing on movies, comics, video games, cosplay, and just about anything else geek. Find out why Project-Nerd's flagship podcast, which now airs every Wednesday, has more than 10 intentional listeners and thousands of accidental ones.
Share
|
Download